from roupel.gr:
"The battle of the Rupel fortress.
Very well known from the two world wars is the fortified narrow passage of Rupel, formed between the hill of Agistro and the eastern accesses of Beles (through this narrow passage flows the river Strymon and near the northern exit is the Bulgarian-Greek border). Because of its strategic importance after the second Balkan war a defensive system of fortresses was constructed in this place, the strongest of which was that of Rupel, situated to the northern exit of the narrow passage.
World war one.
During the first world war it was captured on 26 May 1916 by the Bulgarian-German forces under the following conditions: at 9:45 the commander of the fortress major Mavroudis interrupted the advance of two Bulgarian regiments of the 7th division, which after passing the border in the morning, they headed for the fortress. Major Mavroudis executing orders began to strike with the artillery against these regiments, as a result to halt their movement. Afterwards however after consulting with the military minister he was ordered to surrender the fortress, as the attacking army was under the command of a German officer. So the fortress was surrendered with its heavy armament to the German officer Til."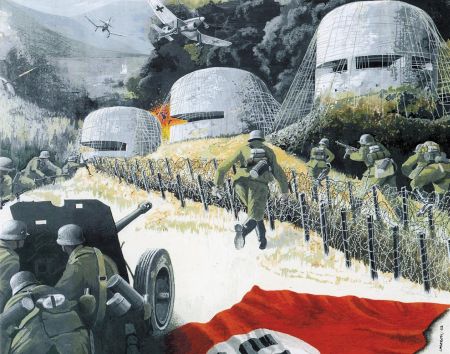 battle of Rupel fortification in 1941